We Can Help at Ciresi Chiropractic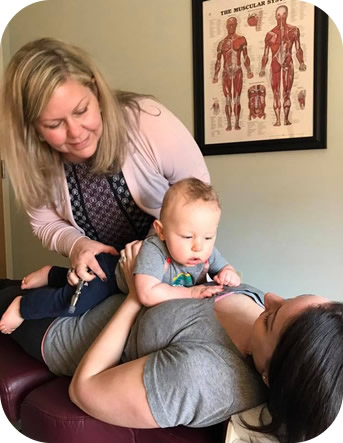 East Greenwich and North Kingstown Chiropractor Dr. Angela Ciresi offers her patients the highest standards in pain relief and wellness optimization. Though known for an emphasis on prenatal and pediatric chiropractic care, she treats people of all ages and conditions. Her mission is to inspire and empower those she serves, and to help them to be active participants in their return to health and vitality. Her many patients would agree that her vision has been a successful one!
A Family-based Hometown Practice
Our chiropractic office has been described as warm and inviting, heart-centered and supportive. We feature adjustment techniques that are gentle enough for a fragile newborn or family members in their golden years, and have a reputation for excellence in creating rock-solid relationships with our many practice members.
We also offer specialized care for the many moms-to-be in our practice. Dr. Ciresi is a certified Webster Technique practitioner, which allows her to deliver safe and gentle chiropractic treatment to not only enhance the health and well-being of Mom, but to create an optimal womb environment for the baby. This research-based care also helps pregnant moms to experience a shorter birthing process with less chance of unwanted intervention or breech birth delivery.
Customized, Personal Care For All
We're traditional in our love of family and community. When you're a member of our practice, we treat you like family because you are family. We're passionate about partnering with you in helping you to reach your wellness potential, and we'll always go the extra mile in helping you to achieve your goals, including:
Assisting you in relieving headaches, fatigue and extremity pain
Being your biggest supporter as chronic pain is alleviated
Helping with healing and recovery from accidents or sports injuries
Reducing the need for pain-numbing drugs for painful joints and muscles
Helping your baby overcome colic, feeding problems or ear infections
Partnering with you in helping you achieve an ideal birth outcome
Supporting you on your journey to more vitality and well-being
Our techniques are consistent and reliable, and it's our promise to you to always exceed your expectations of help and hope. Our family-based practice is focused on you, and we willingly extend our support and expertise in helping you live a better life. Find out why we're often called "the chiropractor near me that I'd still drive out of my way to see!" Contact our Chiropractor East Greenwich today!
Chiropractor East Greenwich, North Kingstown, RI | Ciresi Chiropractic | (401) 398-2468